Srisailam, the historical town amid the lush greenery of Nallamala hills, greets every visitor with tranquil environment and refreshing scenic beauty. Blessed to be one of the 12 jyotirlinga and a shaktipeeth, Srisailam is home to many significant temples. Along with main temple of Sri Mallikarjuna Swamy and Bhramaramba Devi Temple , there are many other places to see in Srisailam. Some of the sightseeing places that you can visit in Srisailam have been listed below.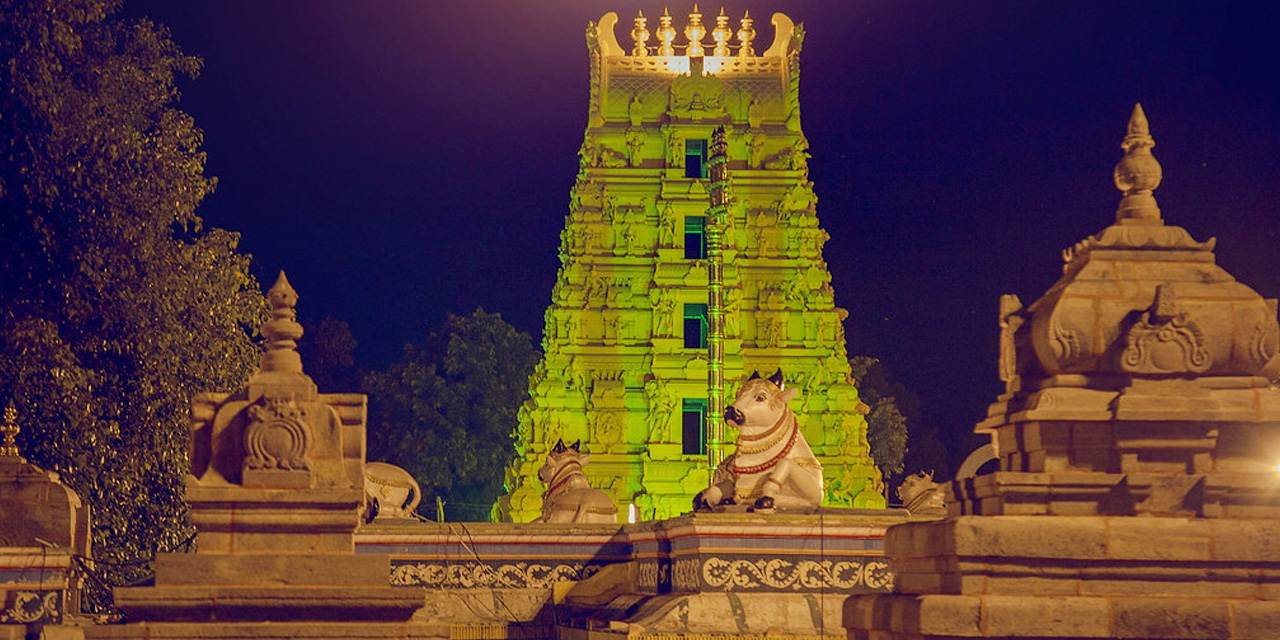 The popular place to visit in Srisailam is Sri Mallikarjuna Swamy Temple. Built in 14th century, this temple is one of the 12 jyotirlingas; it has been mentioned in many ancient Hindu texts. It is located on the Nallamala Hills. The main deity in this temple is Lord Shiva in the form of Sri Mallikarjuna Swamy. This ancient temple is visited by devotees from all over the world who come to seek Lord Blessings.
One of the unique aspect of this temple is that devotees can enter even the sanctum sanctorum of the temple and offer prayers. Another aspect that is worth noticing is the architecture of this temple. The main temple is built in the center of a square shaped courtyard. The main shrine is surrounded various small shrines. It consists of around 116 inscriptions. Stone pillars, exquisitely carved sculptures and the Mukha mandapam make this temple even more alluring.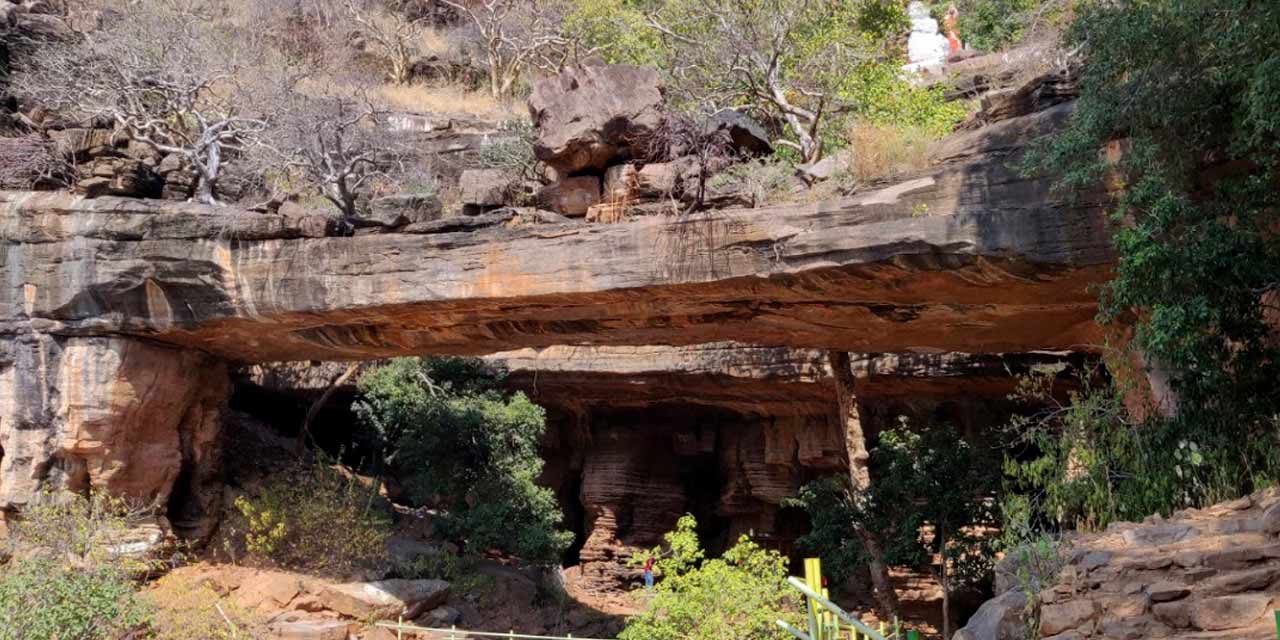 Another place to must visit in Srisailam is the Akka Mahadevi Caves. Presenting mesmerizing natural settings, Akka Mahadevi Caves can be reached via River Krishna. You have to take a ropeway then a boat ride in the Krishna River to reach the caves. Once at the caves, you will be mesmerized by the lush greenery surrounding the caves. Along with scenic beauty, these caves also have historical importance. This cave is named after Akka Mahadevi, who was a renowned saint of 12th century who also contributed immensely to the Veerashaiva Bhakti movement. A walk inside the cave offer adventurous experience. As you go further into the cave, the darkness increases while at the end you will see a statue of Lord Shiva.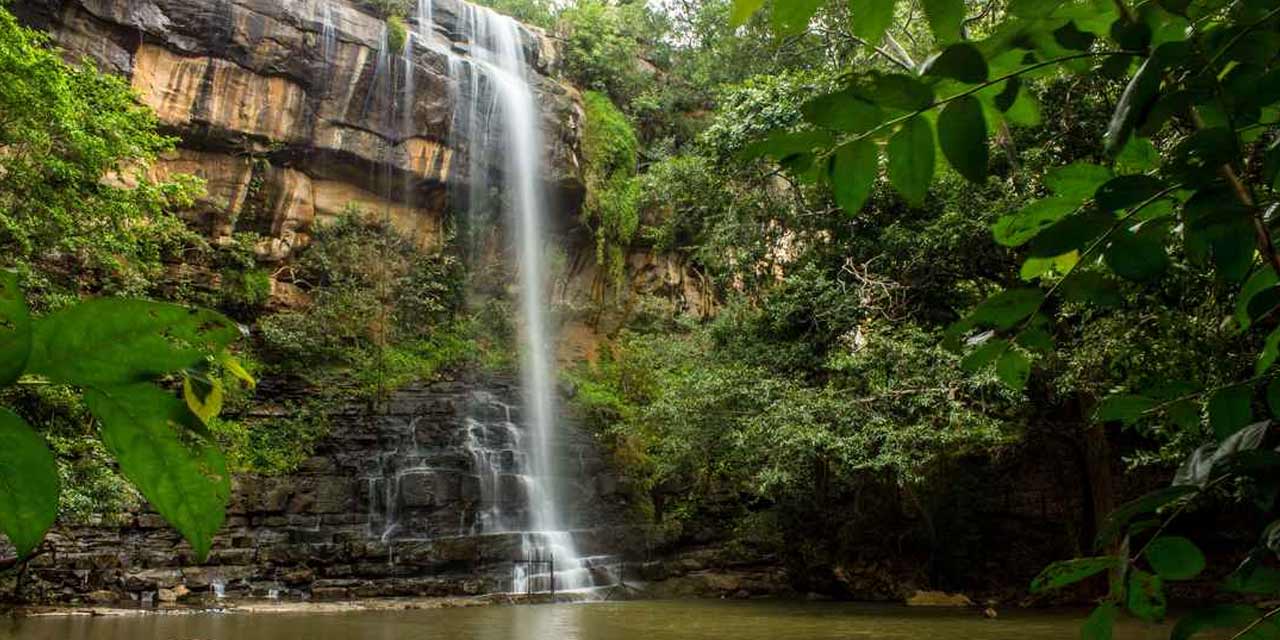 For nature enthusiasts, Mallela Theertham waterfall is the place to must visit. Scenic beauty is combined with great religious significance, creating this waterfall around 58 km away from Srisailam. To reach Mallela Theertham steps have been built. You have to climb down via an approximate of 350 steps. This fall get its water via a small streams that eventually meetings of River Krishna.
It is believed that the water of this waterfall is holy as many saints have performed penances here. Pleased with their dedicated prayers, Lord Shiva is also said to have appeared in front of many saints at this place.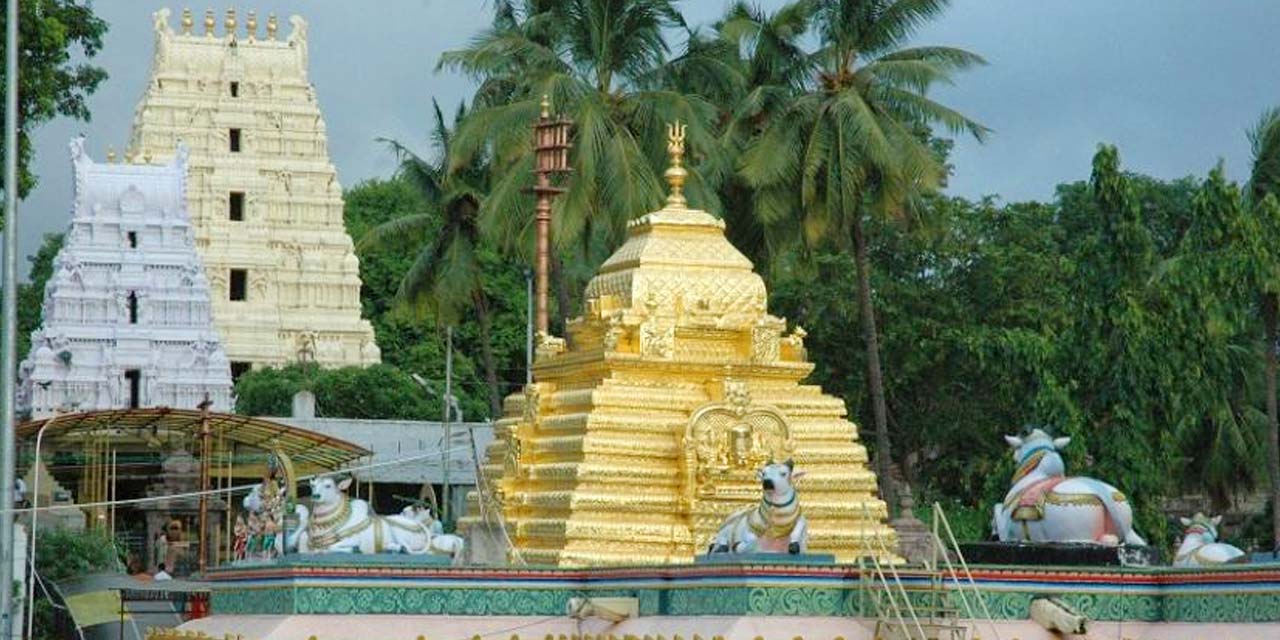 Another popular place to visit in Srisailam is Bhramaramba Devi Temple. Located behind the Sri Mallikarjuna Swamy Temple, this temple is around 457 m above sea level. Bhramaramba Devi Temple is one among the eight shaktipeeth in the country and thus holds immense religious significance. The main deity of the temple is a form of Goddess Parvati - Devi Bhramaramba, who is the consort of Lord Mallikarjuna. There are many legends behind this ancient temple. According to one legend, Goddess Parvati, to kill demon Aarunasura, took the form of Bhramarambika. She then created an army of bees with six legs and eventually killed the demon in a fierce battle.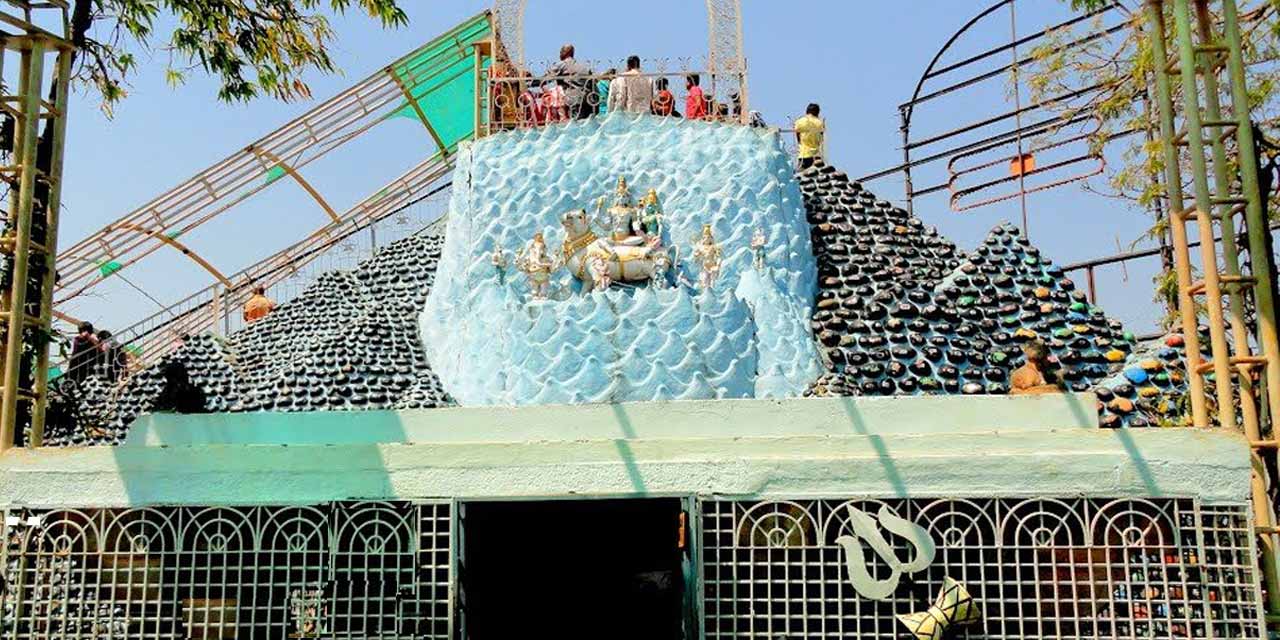 Shikaresvara Temple is located at the highest point of Srisailam which is called as Sikharam. This ancient temple is dedicated to a form of Lord Shiva– Sri Sikaresvara Swamy. Adding on to the importance of this temple is the breathtakingly beautiful view of the River Krishna and surrounding hills. As per the legend behind the temple, Lord Shiva has appeared in this shape after being pleased by the devotion of saints here. A visit to Shikaresvara Temple is said to relive devotees of their past sins. Another temple dedicated to Lord Ganesha is also located here at the Shikaram.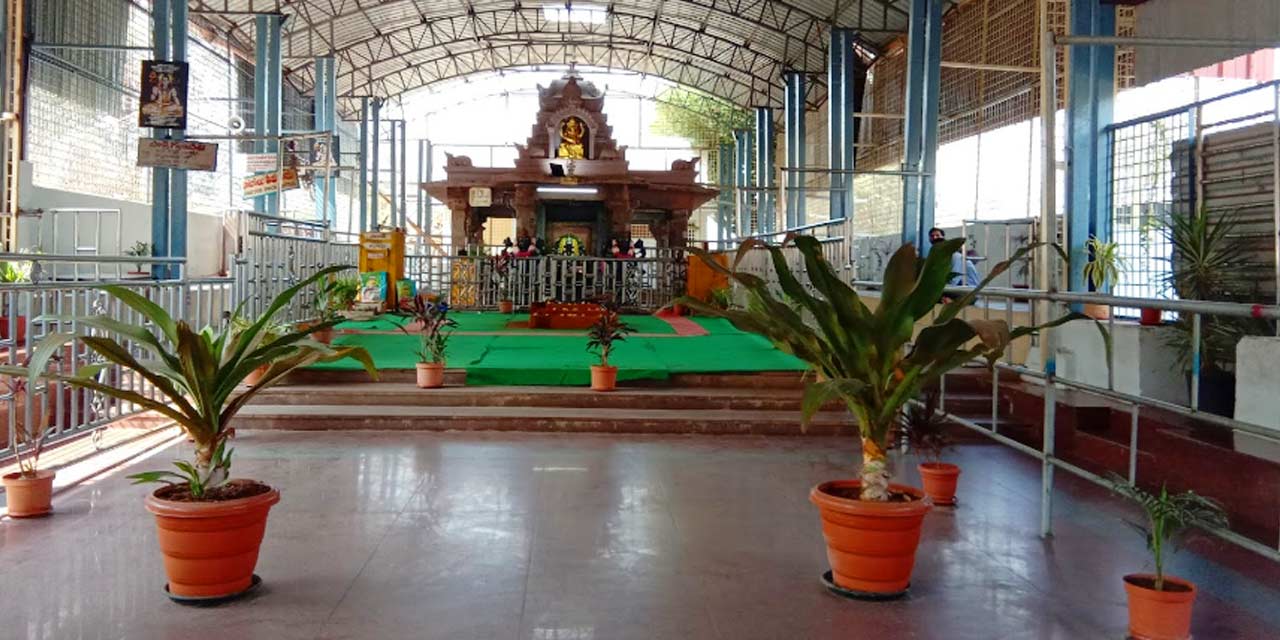 Sakshi Ganapati Temple is a must visit for all devotees who come to offer prayers at Sri Mallikarjuna Temple in Srisailam. An important place to visit in Srisailam, it is said Lord Ganesha keeps a track of all the devotees who visit Srisailam, Hence devotees begin their pilgrimage to this holy town from this temple. The main deity of the temple- Lord Ganesha is shown is holding a book in one hand and a stylus in the other hand. On the outer side of the temple wall are many sculptures of Lord Ganesha, depicting in various scenes such as regarding Lord Shiva to killing a demon.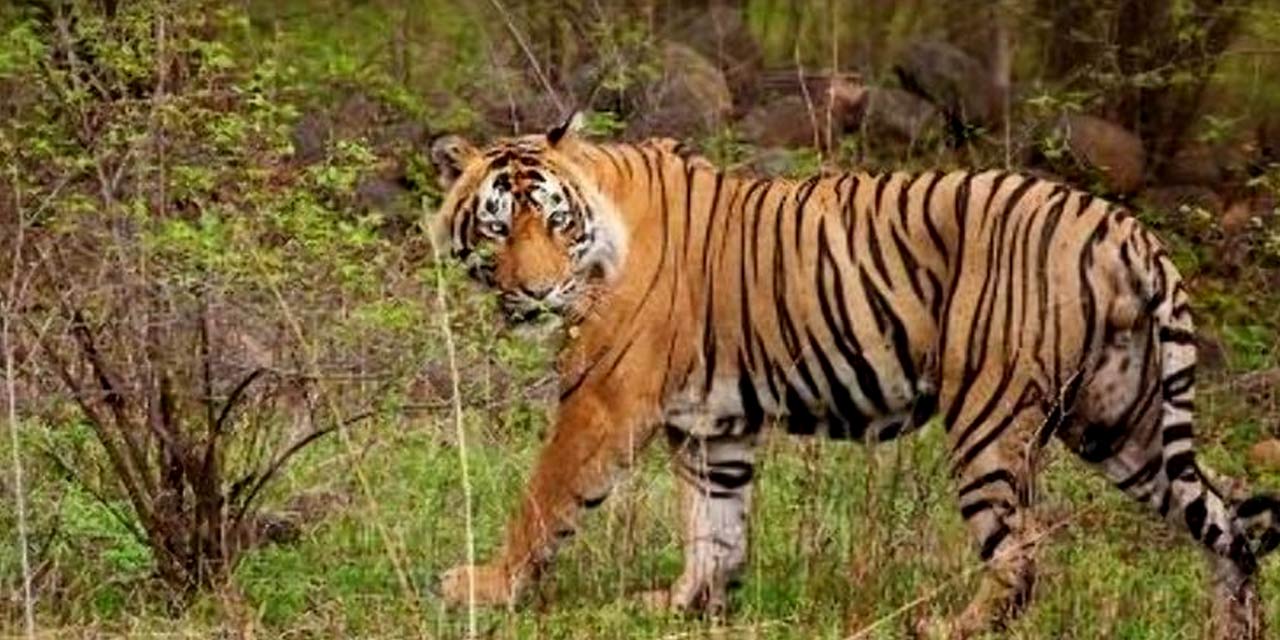 There are ample of places to see for nature lovers as well. One such place is the Srisailam Wildlife Sanctuary. Also known with the name of Nagarjunasagar Srisailam Sanctuary, it was declared as a tiger reserve in 1978. One among the largest tiger reserve in the country, it was later renamed in 1992 as Rajiv Gandhi Wildlife Sanctuary.
Located in the Nallamala Hills, by the side of River Krishna, this wildlife sanctuary presents alluring scenic beauty as well as boasts of a rich flora and fauna. Some of the wild animals that can be spotted in Srisailam Wildlife Sanctuary are tiger, black bucks, sambars, wild boars, spotted deer, panthers, sloth bears, wolves, Indian giant squirrels, etc.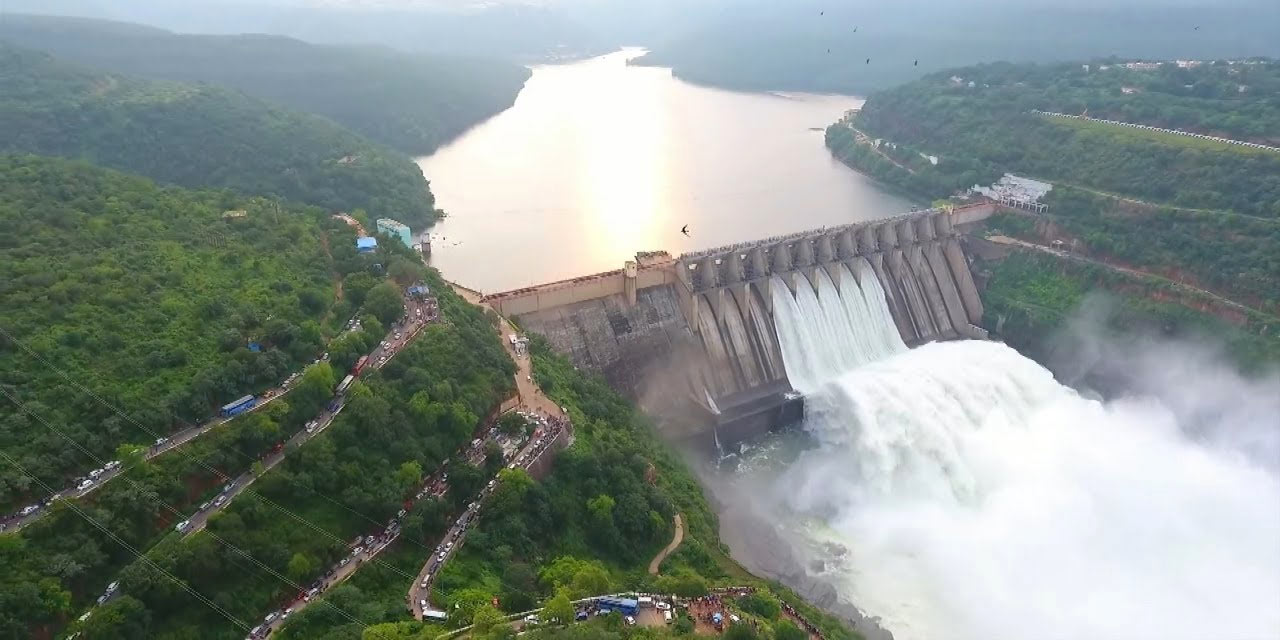 Standing 145 meter high with a length of 512 meters, Srisailam Dam is another popular tourist attraction. Every traveller on a Srisailam tour visits this dam to admire its breath-taking beauty. Its impressive structure with 12 radial crest gates and capacity to hold water up to 885 feet is worth watching. Started as a solely power project in 1960, the dam was turned into a multipurpose project by 1987. It is now source of water for surrounding area of around 2000 sq. km. The sight of water gushing in the dam is absolutely stunning, especially after monsoon season.
Another popular shrine to visit is the Hatakeswaram Temple, located on the way to Srisailam. It is around 5 km away from the town. Although comparatively small in structure, this temple presents a captivating architecture. Dedicated to Sri Hatakeswara Swamy a form of Lord Shiva, this temple dates back to around 11th or 13th century.
As per the legend behind the temple, there lived a potter who was an ardent devotee of Lord Shiva. He used to give his food to the pilgrims. To test him, once Lord Shiva appeared in the guise of pilgrim and asked him food. Unfortunately there was no food in his hut so he prayed to Lord to show him a solution. Pleased with his devotion, Lord Shiva appeared in a pot. This gave the name of the temple as Atikeswaram which later became as Hatakeswaram. A visit to this temple is believed to cure devotee of various diseases.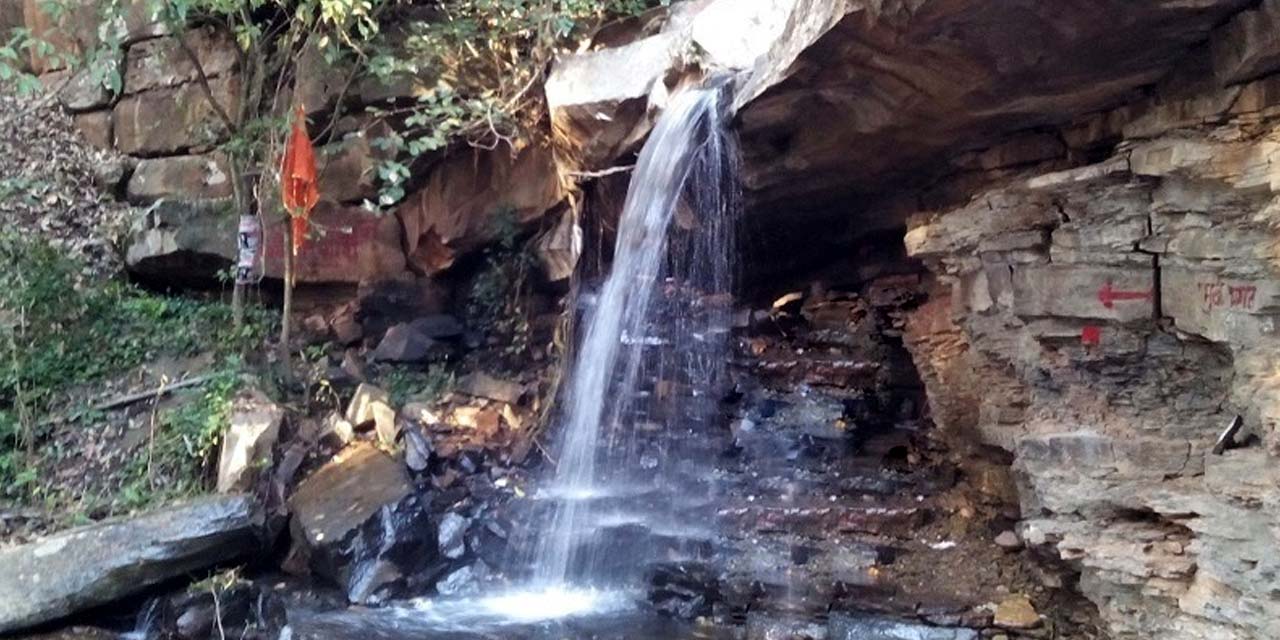 Around 22 km away from Srisailam, Kadalivanam Caves is also a popular sightseeing place in Srisailam. A place for both nature enthusiasts, adventure seekers as well as devotees, Kadalivanam Caves is sure to add a bit of adventure to your Srisailam Tour. Many ancient Hindu texts have mentioned these caves such as Skanda Purana, Shiva Bhaktha Vijayam, etc. Many ardent devotees of Lord Shiva like Akkamahadevi, Allama Prabhu, etc. To reach these caves, tourists can take AP tourism motor boat to reach Akka Mahadevi Caves and from there they have to walk for a distance of around 12 km. The trek to the cave is surrounding with lush greenery create a tranquil atmosphere.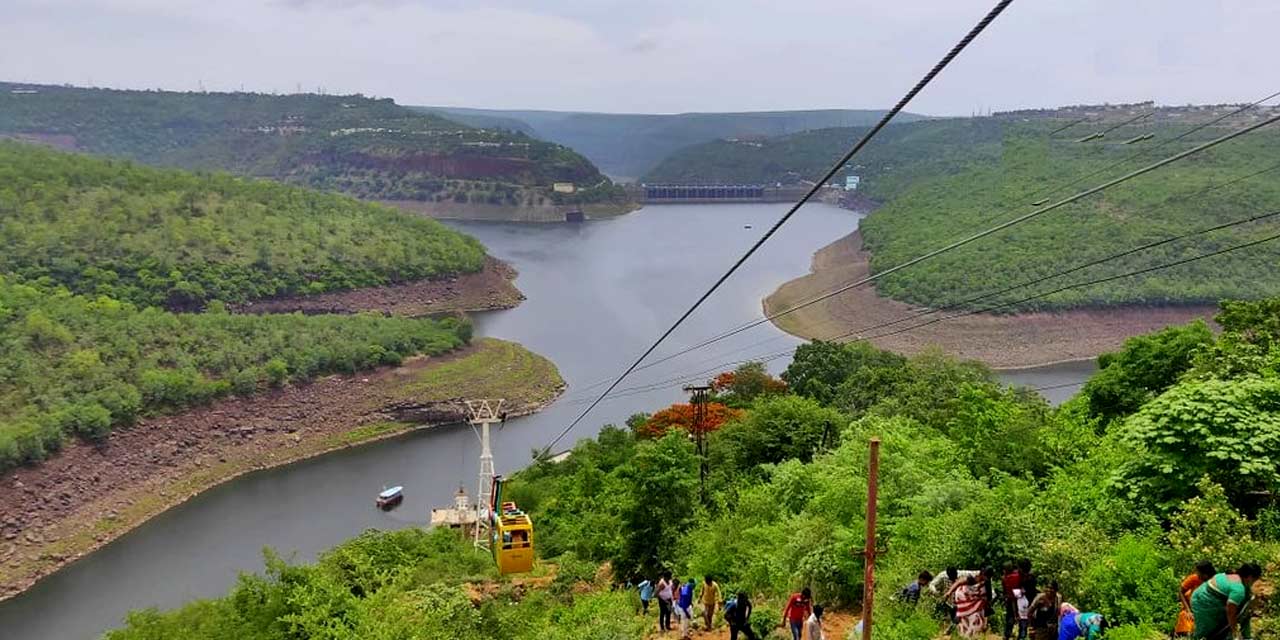 At a distance of around one km from Sri Mallikarjuna Temple, at the backwater of Krishna River Patala Ganga is a holy waterbody that is said to have healing properties. Devotees visit Patala Ganga to take a holy dip. A dip in its water is believed to cure many skin diseases.
To reach Patala Ganga, tourists have to either take the ropeway from ropeway centre which is located close to the Haritha Hotel or walk down around 500 steps from hanuman Temple. Once at the Patala Ganga you can go for boating and admire its scenic beauty at ease. For devotees' conveniences iron chains have been built in the water for them to hold and take a dip.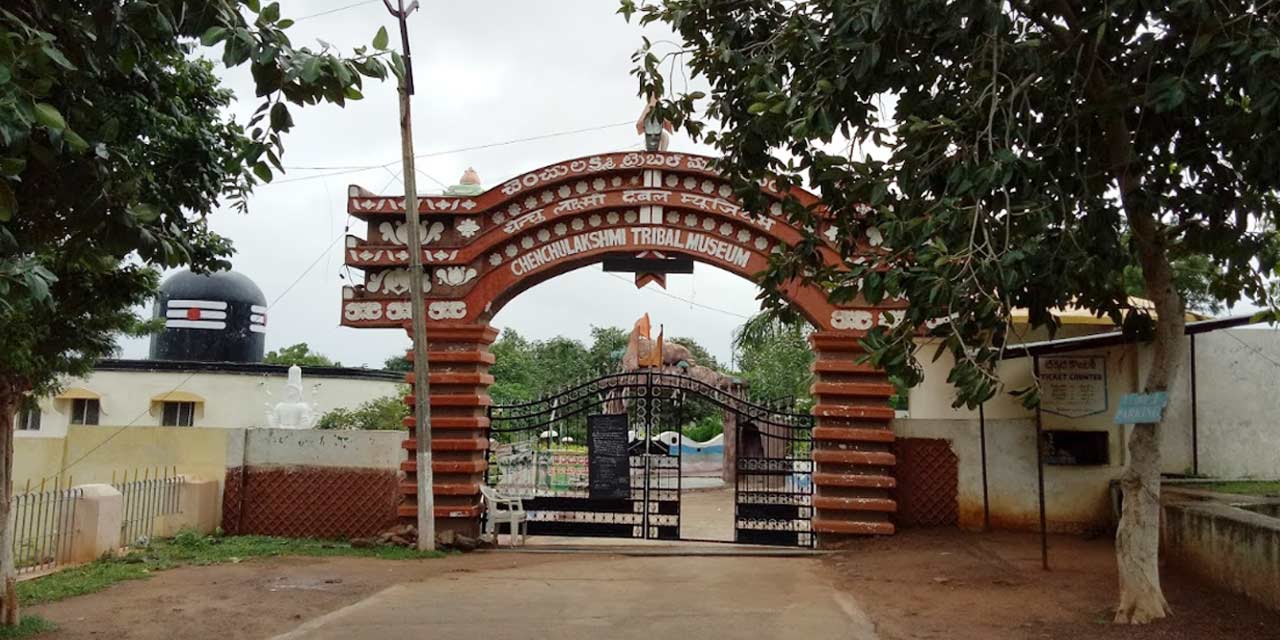 Named after the Chenchu Lakshmi who is a consort of Narasimha Swamy, Chenchu Lakshmi Tribal Museum is a place to visit if time permits. It is around 1 km away from Srisailam Bus stand. This museum showcases the lifestyle, traditions of Chenchu tribe along with various other indigenous tribes residing in Srisailam forests. Consisting of two floors, this museum offers a glimpse into their lives through various artefacts such as weapons, objects of everyday use, musical instruments, God Idols and many more. There is a shop inside the museum complex as well where visitors can buy local honey which is collected by the tribe members. The honey here is sold by the state government.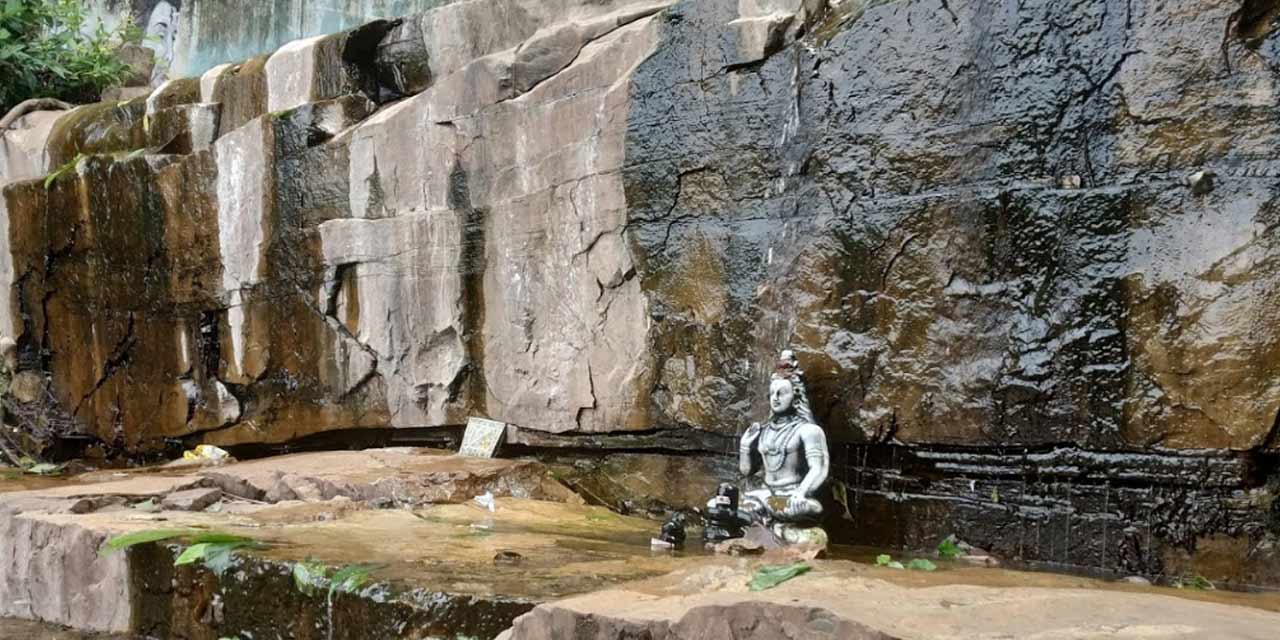 Around 4 km away from Srisailam town, opposite to the Hatakeswaram, is another tourist attraction Paladhara Panchadara. Dedicated to Lord Shiva, this stream of water not only offers captivating scenery; it also has religious associations. Various ancient texts have mentioned Paladhara Panchadara. Sacred Hindu text Skanda Purana describes this stream as Bhogavathi that eventually joins the River Krishna. Great saints Sri Adi Shankaracharya is said to have meditated at this place during 8th century before beginning his journey. It was here he created masterpieces such as Sivanandalahari, Bhramaramba Ashtaka, etc. To reach the stream, you have walk past 160 steps.
Dedicated to Goddess Parvati as Goddess Ishtakameshwari, Ishtakameshwari Temple is located amid the dense forest. It is an ancient temple, dating back to 8th-10th century. Along with the fact that it is located inside a cave, a unique aspect of this temple is the idol of the Goddess. The forehead of the idol is as soft as a human head. Devotees are also allowed to touch the forehead of the deity while offering prayers.
Although to reach Ishtakameshwari Temple, tourists have to cover a rocky path of around 8-9 km, the peacefulness of the surroundings and the pious premises of the temple make the journey worth.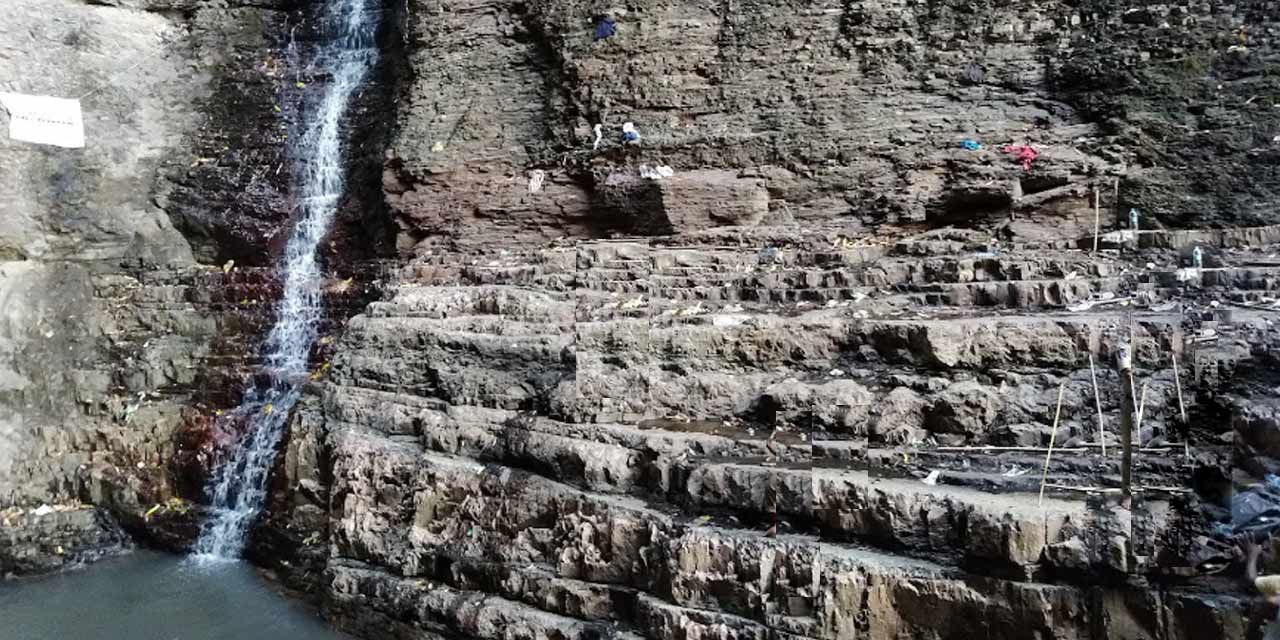 Among the top places to visit near Srisailam is Saleshwaram Cave Temple which is also referred as Sarveswaran or Saleshwaram. It is around 60 km away from Srisailam. The main deity of this temple is Lord Shiva. Built around 6th or 7th century, Saleshwaram Cave Temple has also been mentioned in ancient Hindu texts. For instance, Sri Parvatha Purana describes the cave temple as well.
It is open for just 3- 5 days in a year for devotees during the festival of chaitra Purnima which adds on to the exclusivity of this ancient temple. Saleshwaram Cave Temple is located inside the dense forest and has spellbinding waterfall located opposite to it. The scenery of the surrounding areas and the spiritual atmosphere of the temple is sure to leave you hypnotized.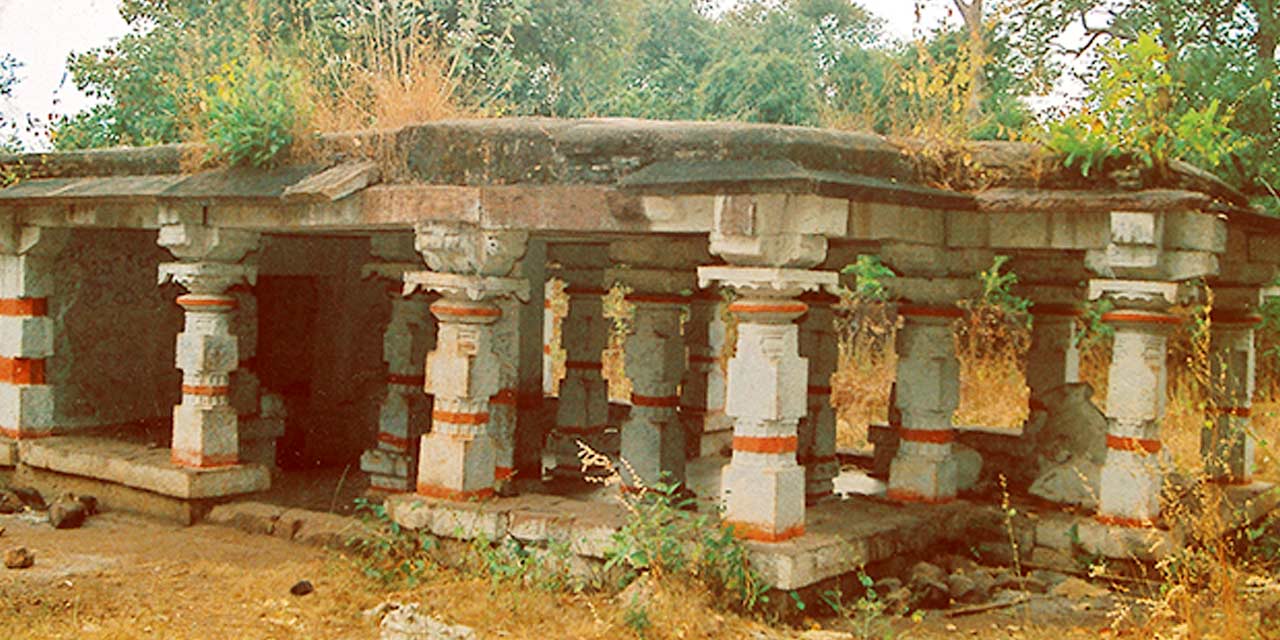 Around 28 km from Srisailam is Nagalooty, also known as Longalooty. Extend your Srisailam tour to include a visit to Nagalooty as this place is worth spending some time. It is home to many ancient temples which were built around 13th to 15th century. It boasts of rich flora and fauna as it is nestled amid the forest. Nagalooty is primarily known as the starting point of Srisailam. Devotees used to travel via its route since 13th century as there are the stone steps dating back to 1326-35 AD. Many devotees use this route even today.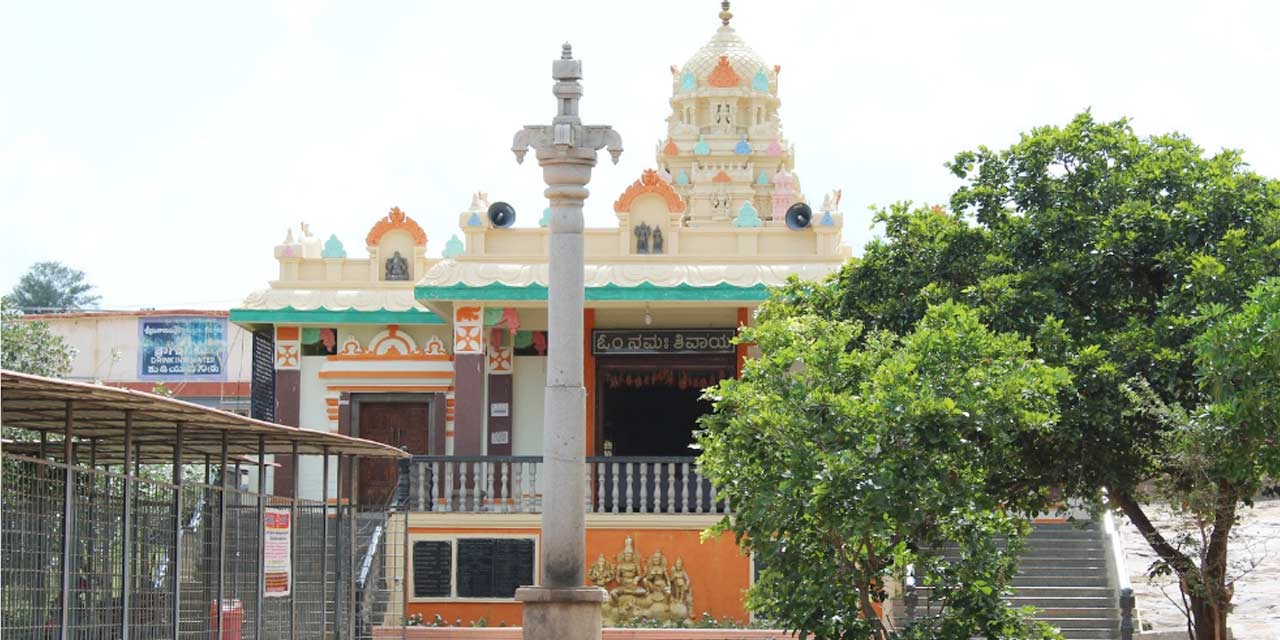 Named after an ardent devotee of Sri Mallikarjuna Swamy, the main deity of this temple is Lord Shiva. It is said that mallamma dedicated her life to lord Shiva; bearing all the difficult times she prayed to the Lord. Hemareddy Mallamma Temple has been built in the honour of her unwavering dedication to Lord. This temple is around 500 meters away from the Sri Mallikarjuna Swamy temple, which is the most popular sightseeing place in Srisailam.